DENTURES & PARTIALS IN COLORADO SPRINGS
Missing teeth are nothing to smile about. At Couchman Center for Complete Dentistry, we've been practicing restorative dentistry for many years; in fact, Dr. Trent Sayers has provided complete dental care to Colorado Springs patients for over 35 years! Our services include:
Dental implant-supported dentures
Dental implants
Partial dentures
Full dentures
Removable dentures
If you need to replace an entire dental arch, Dr. Sayers recommends dental implant-supported dentures, which provide a more stable base for all restorative work.
DENTURES DEFINED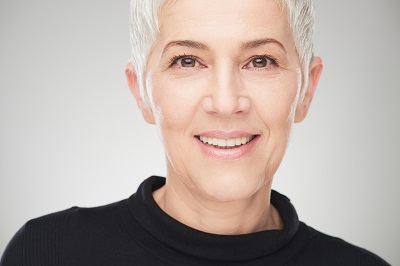 Dentures are appliances that resemble natural teeth. They are created specifically to replace missing teeth and surrounding tissue and to enhance the wearer's smile and overall appearance. Some dentures are removable, while others are implant-supported (e.g., permanent).
Most patients today opt for implant-supported dentures, as they are generally the more comfortable of the two options. Because they are so secure, they can be made from plastic materials to create a lighter feeling, a better fit, and security against slipping. Also, unlike removable dentures, permanent dentures do not require dental adhesives.
WHY CHOOSE DENTURES?
Here are the most common reasons patients need dentures:
Loss of complete teeth within a dental arch (requires complete dentures)
Loss of just a few teeth within an arch (requires partial dentures)
Chewing problems, speech alterations, or digestion difficulties due to missing teeth
Lack of a confident, attractive smile, and altered facial tissues
After years of procrastinating, I finally agreed to get my old dentures replaced. I had grown very comfortable with my old ones, but they didn't look attractive anymore, so I told Dr. Couchman that it was time. After a brief appointment to take new molds of my mouth, I returned about a week later to try on my new pair. I was pleasantly surprised that they felt just like my old pair, but they looked fantastic! I returned about a week later for a follow-up visit, and I happily reported that I hadn't experienced a single problem in the last week—and I couldn't be happier. My new dentures looked brand new and felt like I'd been wearing them for years – That's a winning combination!" – Debbie E.
THE PROCESS: HOW DENTURES ARE CREATED AND FITTED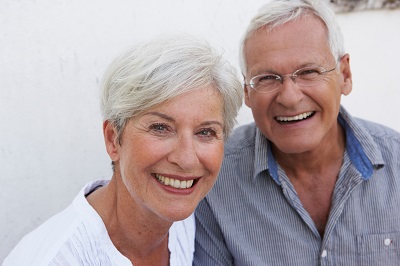 When you are fitted for dentures, expect the process to require several appointments (generally over several weeks). Usually, the first appointment means taking accurate measurements through mouth impressions (molds) to create a custom denture. Subsequent appointments allow time for adjustments in shape, color, and fit.
You should expect some increased saliva flow, soreness, and difficulties in speech and chewing at first; however, this will subside with time as your tissues and jaw muscles become accustomed to your new dentures. Be sure to follow all instructions for proper care of dentures. Denture life is greatly enhanced by appropriate cleaning, general oral hygiene, and periodic checkups with our dentist.
COMPREHENSIVE DENTURE TREATMENTS IN COLORADO SPRINGS
Call Couchman Center for Complete Dentistry today to find out more about our complete dental care in Colorado Springs!